Curriculum
Intent
Our curriculum is driven by the need to prepare our children for lifelong learning. At Mayville, we provide a rich and vibrant curriculum, which is ambitious for all learners to equip them with the necessary skills to become active global learners.
We intend for our curriculum to stimulate learning where our children continuously build on knowledge and skills where they remember more. Our curriculum is embedded with inclusive of knowledge and understanding of diversity, enquiry and future aspirations.
The uniqueness of every child is recognised and valued, creating individuals as empathetic global learners.
As such, our curriculum involves the community, from which it exists, recognising and celebrating the diverse backgrounds and experiences from which our children originate. We continuously adapt our learning journey to meet the needs and interests of our children, offering an exceptional education underpinned by a broad, culturally rich and powerful curriculum to guarantee that all pupils are well-equipped for the next stages in their education.
Through a creative lens our curriculum provides a broad experience without limits. We are breaking the glass ceiling of responsibility for our future world. We celebrate and embrace open discussion and reflection. Our curriculum encourages problem-solving and creates natural thinkers who are independent and inquisitive lifelong learners.
To infinity and beyond.
Aims
Engage children through interesting topics and hands-on activities.
Make meaningful links between subjects.
Ensure that children know, understand and remember more so that they are well prepared for the next steps in their learning.
Make active connections to the real world.
Support children to think creatively and solve problems.
Develop children's capacities to work independently and collaboratively.
Empower children to make choices about their learning.
Take account of children's interests and fascinations.
Our approach
Develops children to ensure they reach their potential
Aids children to find their passions and interests
Enables children's acquisition of knowledge, skills and understanding
Helps children to develop intellectually, emotionally, socially, physically and morally
Assists children in becoming independent, responsible, useful, confident and considerate members of the community
Promotes a positive attitude towards learning, so children enjoy coming to school
Helps children to acquire a solid basis for lifelong learning
Creates and upholds an exciting and stimulating learning environment
Supports children to flourish within a culturally diverse society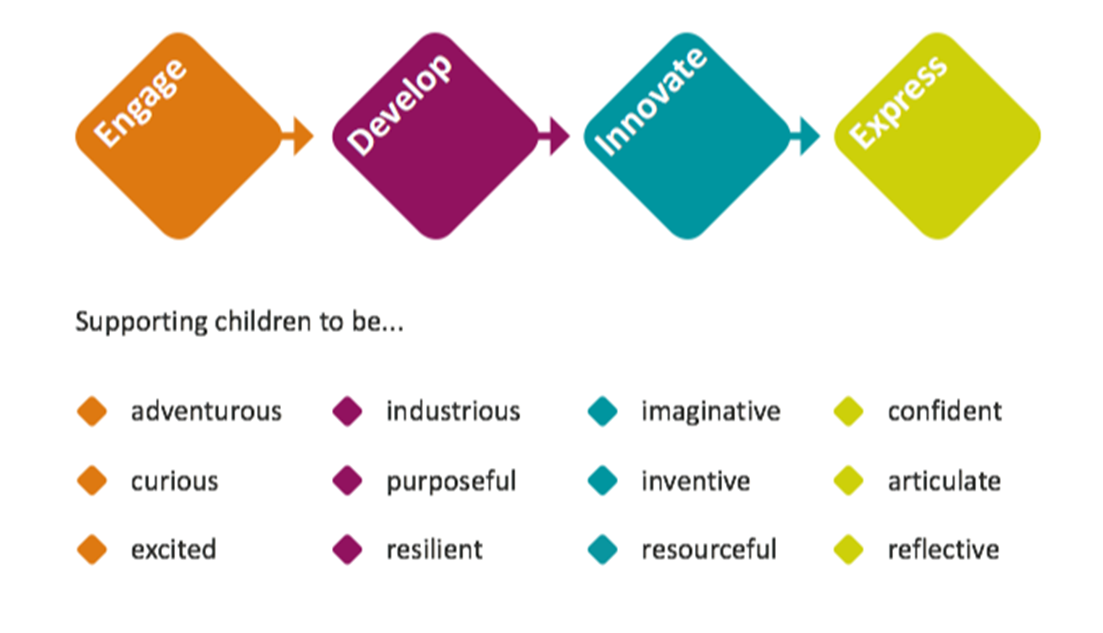 Engage
hooks learners in with a memorable experience
set the scene and provide the context
ask questions to provoke thought and interest
use interesting starting points to spark children's curiosity
Develop
teach knowledge to provide depth of understanding
demonstrate new skills and allow time for consolidation
provide creative opportunities for making and doing
deliver reading, writing and talk across the curriculum
Innovate
provide imaginative scenarios for creative thinking
enable and assess the application of previously learned skills
encourage enterprise and independent thinking
work in groups and independently to solve problems
Express
encourage reflective talk by asking questions
provide opportunities for shared evaluation
celebrate success
identify next steps for learning
Memorable Experience
Each Topic begins with a memorable experience that stimulates children's curiosity and prepares them for a new theme. A memorable experience often involves an educational visit out of school or a visitor coming into school to share their expertise with the children.
Cultural Capital At Mayville
At Mayville Primary School we view 'cultural capital' as the characteristics, knowledge and skills that promote social mobility, both now and in the future. We ensure that children are exposed to a wide range of experiences that will develop their cultural capital and give them an advantage in later life.
Music Lessons,
Remembrance Day
Science week: Spring term
Maths Problem-Solving Day
Arts Week
Team days (1 per half term)
Sports Day
Go Green Day: June
Younger Voices
Pantomime visit
Church Visit
Harvest celebration
Visit from a local church leader (Christianity – RE)
Visit to a Hindu Temple (RE)
Swimming lessons (Year 4)
Charity leaders assemblies and visits
Parents/carers tea morning
Eco Council membership Cultural Capital
Wide range of trips planned for all year groups
A wide range of sporting opportunities/clubs for all children
Residential trip- Norfolk
Fundraising opportunities throughout the year
Bikeability training
PSHE- 1 Decision
Relationship education (including Relationships without fear sessions)
Drugs education teaching