Macmillan Coffee Morning - 1 October 2015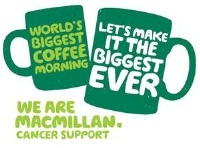 Macmillan Coffee Morning on 1 October 2015 at 9am in the School Hall.
COME AND MAKE A STIR, ALL FOR A GOOD CAUSE!
MACMILLAN COFFEE MORNING
Come for a coffee and cake from 9am till 10:30am on Thursday 1 October 2015.
in the school hall and make a donation towards the Macmillan fund and meet the PTA.
MACMILLAN AFTER SCHOOL CAKE SALE
Come buy our delicious cakes after school on our cake stand
in the playground, for an after school treat. If you would like
to bake some cakes at home for us to sell on the cake stand please let
Miss M McLeod (junior) know. All money is donated to the Macmillan fund