Children in Need Day - Friday 15 November 2013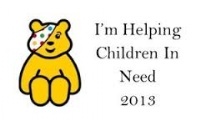 Children in Need was a great success and the whole school thoroughly enjoyed the day raising money for this good cause. Thank you for all your support and help.
A huge thank you to the School Council, Staff and Parents who helped to make the day a great success by donating money, cakes, organising activities and joining in with all the celebrations.
So far we have counted over £800 raised for this greaty charity.
Thank you all again for your support.