Summer Reading Challenge 2021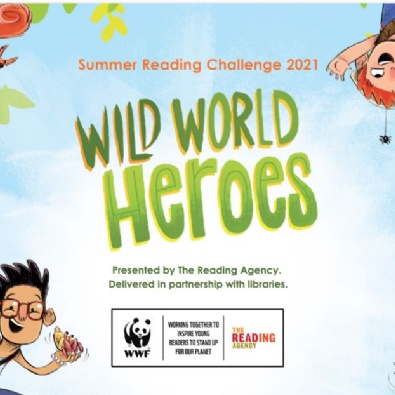 The national curriculum for English aims to ensure that pupils develop the habit of reading
widely and often for both pleasure and information.
Organised by charity The Reading Agency (www.readingagency.org.uk) and the UK public library network since 1999, the Summer Reading Challenge is the UK's biggest annual reading promotion for children aged 4 to 11. Last year, in The London Borough of Waltham Forest 5000 children took part.
The Summer Reading Challenge combines FREE access to books with fun, creative activities during the summer holidays. Throughout the Challenge, library staff and young volunteers support the children, helping them to discover new authors and illustrators and to explore a wide range of different types of books and ways of reading,
How the Challenge works
Children sign up through their local library and receive a Wild World Heroes collector poster
Children set a reading goal and borrow and read library books of their own choice during the summer, collecting special stickers to complete their poster and extra incentives along the way
Library staff and volunteers are on hand to advise and run family-friendly activities
Children who complete the Summer Reading Challenge are presented with a certificate and a medal
The official Challenge website, wildworldheroes.org.uk, hosts digital rewards, author videos, games and more for children to enjoy all summer